ST. LOUIS — The region is in an outdoor retail renaissance.
Over the past year, three local shops have opened within 8 miles of one another, stocking camping gear, climbing holds and canoes for adventurous St. Louisans. A new chain outlet has arrived. And now two existing franchises are adding second locations.
The St. Louis area is coming into its own as a hub for outdoor recreation, said Brad Kovach, editor of St. Louis-based Terrain Magazine. And there's still room to grow.
"Competition will breed more interest," Kovach said. "Instead of splitting a pie into smaller pieces, they're going to make a bigger pie."
The rush of openings reflects a local industry scrambling to catch up with surging interest and increased opportunities. Over the past few years, trails have been extended and bike parks built. Niche activities have gone mainstream. At the same time, the pandemic began to push cabin-fevered homebodies off their couches and into kayaks, hiking boots or snowboards.
And retailers figured that enthusiasts — both folks picking up hobbies for the first time and those revisiting lapsed ones — needed equipment. In November, Arkansas-based Gearhead Outfitters landed in Plaza Frontenac. REI is arriving in Town and Country by summer, and Sunset Hills will be home to a Bass Pro Shop before the end of the year.
But the trio of independent operations, which welcomed customers within weeks of each other in October, have claimed space here even among the major players. They are banking on experienced staff, curated shelves and an approachable atmosphere to give them a toehold in the burgeoning market.
"Outdoor space can be off-putting and standoffish," said Ian VanDam, the owner of Field Theory on Big Bend Boulevard in Webster Groves. "We really keep it accessible."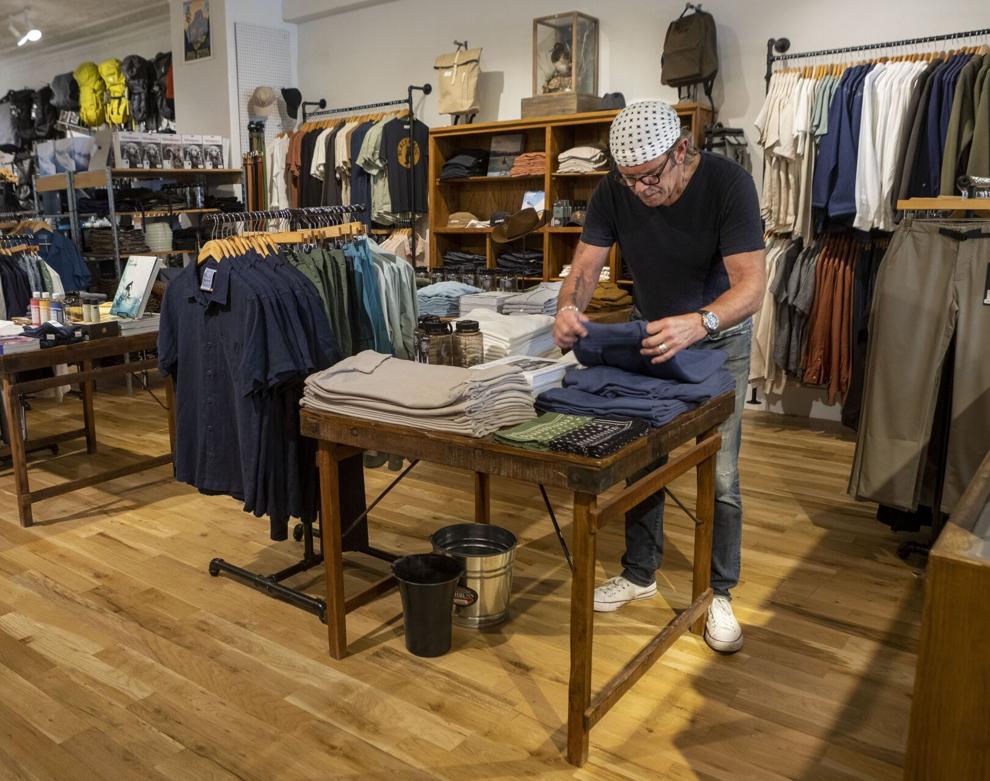 He had already developed a customer base through the lifestyle store he co-owns with his mother, Civil Alchemy. When a place became available across the street, VanDam decided to expand — with a purpose.
Field Theory lets him indulge his penchant for "no-fuss utilitarian" gear that's also "a little bit funkier." The shop sells everything from geodesic tents and organic toothpaste to Ansel Adams' photography books. VanDam's Bernese mountain dog, Rafa, serves as the official greeter.
Anna Sweeley of St. Louis County brought her 3-year-old son, Alfie, to Field Theory on a recent Thursday. After making Rafa's acquaintance, they checked out rucksacks and ballcaps.
Sweeley acquired a taste for "hard-core hiking" while living in Colorado but thinks Missouri has more to offer than many natives realize.
"We do a lot of Castlewood. It's in our backyard," said Sweeley, who has two other boys. "We just have to be outdoors."
Missouri's 92 state parks saw record attendance last year. Castlewood, in Ballwin, is known for its mountain-bike-friendly trails.
Elephant Rocks, in Iron County, offers nearby bouldering opportunities, said Hannah Chancellor, marketing director of rock climbing company So iLL.
Chancellor's husband, Dan, and his brother, Dave, started the company in 2006 out of their barn in southern Illinois and a few years later designed their first of two climbing gyms.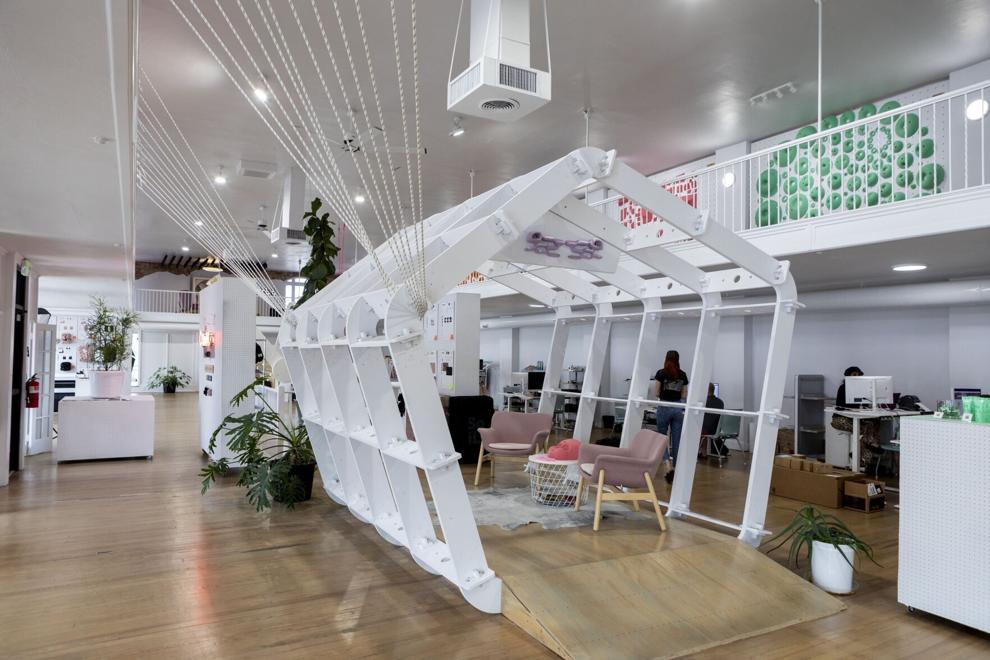 Since then, the sport's profile has been elevated: In 2020, climbing made its debut at the Tokyo Olympics. More climbing gyms were built in the United States in 2021 than in any previous year, according to Climbing Business Journal, an industry publication.
For months, So iLL's 13 employees worked to convert their office space on Marconi Avenue on the Hill into a climbing showroom, "a little So iLL museum," Chancellor said, with harnesses and carabiners, chalk bags and crash pads. A spectrum of climbing holds bubbles out from the white pegboard walls.
"When you are doing something like climbing, it's important to be able to touch it and feel it and ask somebody a couple questions," she said.
Shoe-fitting is almost a workout in itself. It can take up to an hour to experiment with the toe-curling footwear, checking for tension, stiffness and grip.
"It's kind of a process," said Chancellor. "We can guide people."
Being able to try gear out and talk through options eases what can be a daunting experience for customers who are new to a sport.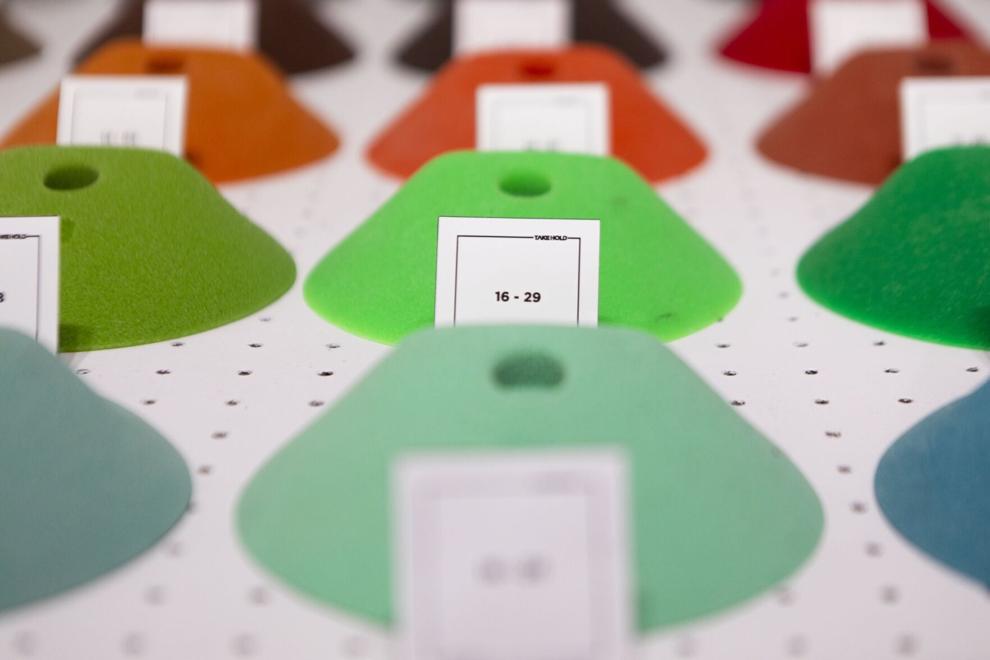 Joe Diekemper of St. Louis had wanted his own canoe ever since he dipped his toes in the water on an excursion with Big Muddy Adventures. When he got an unexpected bonus at work this winter, he decided it was time to buy.
Diekemper examined the streamlined selection at Big Muddy's Guide Shop on Washington Boulevard in the Central West End and spotted a canary yellow 16-footer. He ran his hand from bow to stern, gripped the hull and determined he could lift it atop his car by himself, a nonnegotiable attribute.
He took it home that day.
"It's incredibly light," said Diekemper. "It handles beautifully."
Big Muddy has hosted river expeditions, like "full-moon floats" and overnight campouts, since 2016. But the converted auto-repair shop, with a bar inside and a firepit out back, allows the company to connect with its customers on dry land.
"We've always wanted to have some sort of outpost," said owner Roo Yawitz. "We're trying to be an urban center for an outdoor lifestyle."
Customers can book trips at the store, as well as shop for life jackets, cast-iron cookware or books on birding. Big Muddy carries a line of locally made graphic T-shirts, Ope Outdoors, that celebrate day-trip destinations like Johnson's Shut-Ins and Hawn State Park.
"We're not selling skis," said Yawitz. "We're very Midwest-focused. People are doing really cool stuff here."